I was recently given the opportunity to review the book,
High School Prep Genius
published by
College Prep Genius
. Although this book is meant to be read and worked through by both the parent and the student, I have been reading it by myself for the purpose of this review. I am planning to use this book during the summer with Michaela, who is going in to the 11th grade this coming fall.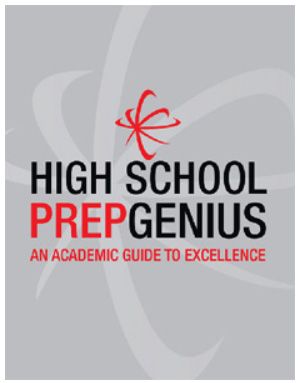 From the website:
High School Prep Genius
gives parents answers to all the questions they ask about high school (and the questions they should ask)! Everything from transcript preparation to nailing the college interview, HSPG teaches how to turn a student's high school career into a springboard for lifelong success! This is a guidebook to navigating through high school and beyond. Help your students maximize their opportunities and achieve their highest potential with the help of
High School Prep Genius
!
Age Range: 7th Grade to 12th Grade
Price: $29.95
When the book first arrived, I was a little intimidated by the 400+ pages. The book is divided into 4 sections:
I. Introduction
This section explains how to use this book and has an enormous amount of information about keeping and organizing your students high school records.
*I spent most of my review reading time in this section! It is full of sticky notes, highlighter marks, & scribbled notes in the margins.
Summer Project: Creating a College and Career Notebook with Michaela. This notebook will contain all the necessary information for applying to a school or a job in one place.
This section also has several helpful forms for record-keeping and creating a College and Career notebook. My only suggestion would be to have these forms available on downloadable cd for easy use. The size of the book is smaller than the recommended 3-ring binder for the College and Career Notebook, so simply making a copy of the forms from the book would not give you the appropriate size form for your notebook.
II. Foundation for Personal Success (Chapters 1-6)
This section includes information on fostering personal growth, developing interests, establishing belief systems, promoting mental and physical health, creating financial independence, and building a strong support system.
*I felt as though this section had more of a "parenting" how-to, world-view vibe to it and a few of the concepts do not line up with our Bible-based family dynamics.
III. Foundation for Academic Success (Chapters 7-12)
This section includes information on academic essentials, effective study skills, organization techniques, the basics of high school, and tips for the high school experience.
*Really wish I had known some of the study tips in chapter 8 when I was in high school! This section will definitely be beneficial over the next two years of our high school journey, as well as college.
IV. Foundation for Future Success (Chapters 13-18)
This section includes information on planning for the future, picking a path after high school, stufying for important entrance exams, applying to college, paying for higher education, and understanding college essentials.
*Although Michaela will be starting 11th Grade this fall, I do not think that she has really decided yet what she wants to do, career-wise. I am hoping that the information in this section will help her with making her career goals.
Each chapter has "Think About It" questions for the student and a section specifically for the parent, as well as "homework" for the parent.
There are 5 Appendices in the back of the book for extra information:
A: How to Build a Homeschool Transcript
B: Talent Searches
C: Great Books to Get You Started
D: Reduce Test Anxiety Through Relaxation Techniques
E: Admissions Terminology
I plan to use Appendix C to build a two-year reading list for Michaela to finish out the rest of her high school journey.
Aside from my
personal
concerns with a few of the chapters, looking forward I still feel that this book will be of great use to our family as we homeschool through high school!